This web page presents information as of December 2010.
The page is no longer updated.
From January 2011, the activities continue within two separate organizational units:

Department of Knowledge Technologies
Artificial Intelligence Laboratory


Our goal is to advance cutting-edge research and applications of knowledge technologies, including data, text and web mining, machine learning, decision support, language technologies, knowledge management, and other information technologies that support the acquisition, management, modelling and use of knowledge and data.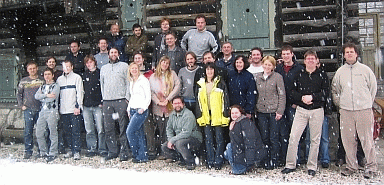 Department members have authored and edited numerous scientific books, and chaired international conferences and workshops. We currently participate in around twenty FP6 and FP7 EU projects, one of which we also coordinate.

Our technologies have been successfully applied to many practical problems, including earthquake prediction, selection of applicants for loans of the National Housing Fund, analysis of UK traffic accidents, medical diagnosis, analysis of the Slovenian public healthcare system, scientific digital editions of Slovene literature, improving the functionality of Microsoft Internet Explorer, and analysis and visualization of European IST research projects.



Department presentation (PPT), brochure (PPT) and annual report 2008 (PDF), 2009 (Slovene & English, PDF)

Jozef Stefan International Postgraduate School